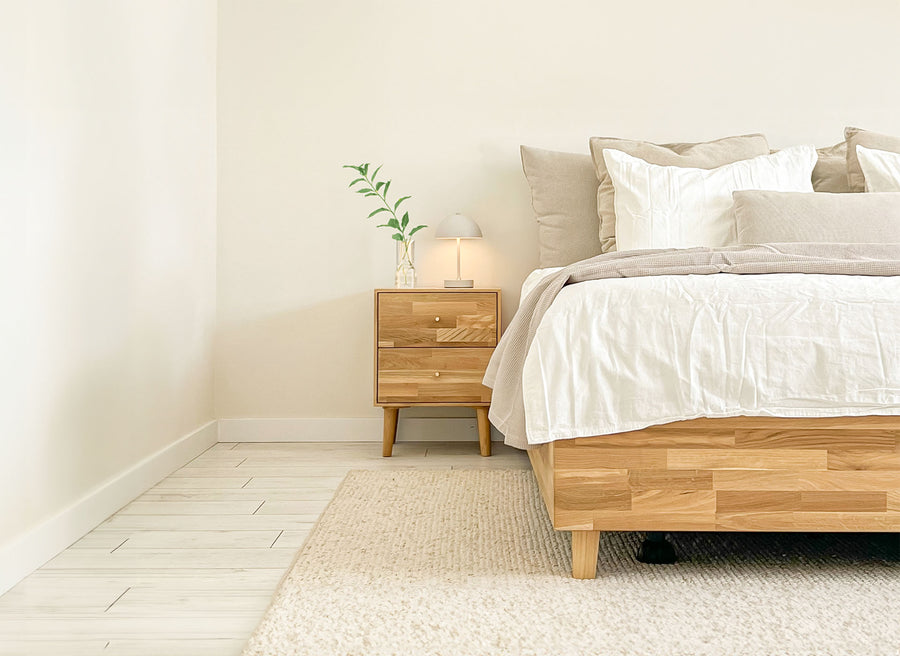 Bed without headboard
Minimalism in the best sense of the word.

The bed without a headrest is ideal for a small bedroom, in the attic or in interiors with decorative wallpapers on the wall.
10 years guarantee
Delivery with lifting
30 days for free return
In the berke range, you will find a wide selection of headless beds that are made from the highest quality materials. Our wooden and upholstered headless beds are a little more minimalistic, while at the same time being characterised by very high durability and careful workmanship. This type of bed has been adapted to the needs of many customers, regardless of their preferred style. There is a wide range of colours and types of beds to choose from, ranging from single beds to double beds for bedrooms, to double beds with a bed linen container that will save a lot of space in the room. This type of bed is available from us in various configurations and you are sure to find exactly what you are looking for.
Bed without a headboard - the quintessence of modernity and minimalism
The modern style is open to original solutions, and so are headless beds, which, although minimalist, can often attract the eye with their simplicity. These types of beds are perfect for modern, but also minimalist interiors, giving the bedroom a Scandinavian-Japanese style. It is for such solutions that the most classic and traditional bedrooms are now created, where the furniture is also a decorative element. A bed without a headboard will work well in a youth room as well as in a marital bedroom. It is also a good solution for a futuristic style bedroom. If you have a small bedroom and the bed is pushed against the wall, this is also a good option. A bed without a headboard is also much easier to position under a window. If this is your only option for bed location - go for this type of frame.
Headless bed frame - the way to go in a small bedroom
Headless beds actually consist of just the frame itself in the vast majority of cases. It is the frame of the headless bed that is the key element here, which, like all furniture, must be made carefully, elegantly and sturdily. If we wish, we can also choose a bed with a frame that will take an interesting form and shape. Moreover, whichever one we choose, it will be very simple to build and assemble. Recently, we can also increasingly see backless beds with an extended frame, which in many spaces looks very aesthetically pleasing and provides a perfect setting for any mattress.
Headless bedroom bed - opt for minimalism in your bedroom
Headless beds are paradoxically a very distinctive and distinctive piece of furniture, which is why, despite their simplicity, they do not require many accessories. On their own, despite their simple form, they can be modern and timeless, so whatever our final choice, try not to overwhelm them with a lot of heavy accessories. It is also a very good idea to place such a bed in a central part of the bedroom, so we can ensure an original decor. What should also be kept in mind for a headless bedroom bed? Above all, not to clutter the space. Fewer cupboards, wardrobes or tables will definitely work in this case. You can replace this type of furniture with a storage unit built into the frame. Such an arrangement economy will make the bed look much better. Remember also to choose the right frame. Its height should stabilise the mattress well - it should hide in the frame and not move even during a restless night.
A bed without a headrest will plan your space well.
The big advantage of a headrestless bed is that it is mobile and can be set up practically anywhere. Thanks to the fact that it has no headboard and consists practically of the frame itself, we are able to move it with little effort, to the place of our dreams, and its actual dimensions are smaller than those of beds with a headboard. Of course, the frame of a headless bed has to be made very carefully and tidily in order to support any type of mattress, but this does not change the fact that this type of bed is more mobile than a large double bed with a headboard. A bed for a bedroom without a headboard is therefore the ideal solution not only for small rooms, but also when the bedroom is not set up or when we often like to make some modifications to the arrangement. Choosing a bed without a headrest is all about going for minimalism. Check which model will work best for you - do you need a headless bed with a chest, upholstered, or do you have other expectations?
Available dimensions of beds without a headrest are 140x200, 160x200, 180x200, 200x200.