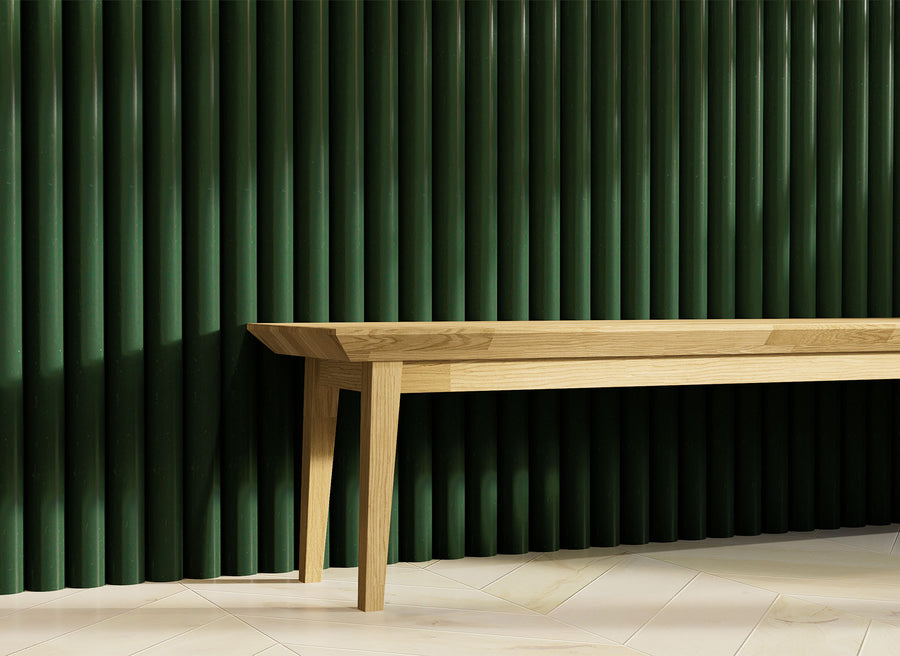 Benches
Oak benches and seats are a universal option to create an additional place to rest in the bedroom, kitchen or corridor.

Regardless of whether you appear on a modern or traditional design, this simple and mobile furniture will add style to your interior.
10 years guarantee
Delivery with lifting
30 days for free return
Hallway and bedroom benches are starting to gain traction again popularity. They used to be an indispensable element in every apartment and house. Then for several years have disappeared and are now making a successful comeback. So what is it about them that we want them again to have? The currently created benches are very aesthetic, they blend in beautifully with the interior and, moreover, they are very attractive functional. We can sit on it while dressing or putting on shoes, we can also put it down previously prepared style. Modern benches that we can buy in berke will be perfect in any interior styling. A simple form and elegant and stylish finish is the perfect choice for everyone a room that needs lightness. The wide range of the brand includes both classic solutions and more minimalist models that will be great in a glamor style hallway - shiny, metal gold-colored accessories perfectly reflect the light and together with the rest of the decor will create a coherent and original whole. The style of furniture affects the character of the entire interior, so choose the right style for yourself. Decide on An elegant bench will undoubtedly emphasize the style of any living room. Glamor style furniture such as beds and chairs, They look elegant in every bedroom.
Choose oak benches from the berke offer for your bedroom.
Stylish and beautiful benches and seats will work not only in the garden, but also in the garden also in bedrooms . It is a product that will not only perfectly decorate our hall, but also fulfills many practical functions. The main one, of course, is the possibility of convenient and comfortable put on shoes before going outside. Often in such a bench or under it we can hide a lot boxes for products that we will hide from the sight of incoming guests. We also cannot fail to mention the advantages aesthetic connection of the bed and the seat. A well-chosen bench looks very stylish and great it harmonizes with the interior design. Wooden benches for the hall, made in a classic form, is furniture that will be appreciated by everyone who loves traditional and stylish arrangement. The structure of this type of furniture because it was made of oak wood , has a simple, classic, but at the same time timeless shape and flat seat, non-quilted seat. This makes the hall bench a piece of furniture very versatile and beautifully made. We also have many colors to choose from, so we can match it to decor of any interior. The dimensions of the seat can be adapted to the space to achieve the perfect effect in the arrangement. The decorated hall offers a practical storage solution. Not only a quilted seat about perfect dimensions will work in both glamor style living room and bedroom. The use of a bench in interior design can make it become a bench main decorative element.
Bedroom benches in every style - not just a quilted seat
It's time to introduce light, comfortable, comfortable but to our bedroom at the same time beautifully made and stylish benches . Benches made of oak are willingly used both in classic interiors, as well as those more extravagant and modern, where they introduce an element of calm, style and class. By focusing on classic shapes and a beautiful wooden finish, we are sure that the bedroom it will remain cozy. If we love the lightness of style, then we must choose a classic bench berke for the bedroom , which will create a nice zone of relaxation and comfort in the interior getting ready to go out. The bench can be used not only for dressing and putting away creations for the evening, but also for make-up. In addition, it looks very elegant and stylish in every refined glamorous bedroom ! If you are looking for a New York style or style seat glamor, products in the berke offer will be worth their weight in gold. Rest categories offer different solutions tailored to individual needs. Appropriate use of the bench in interior design can make it stand it is the main decorative element. The fabric of the bed can easily be emphasized with a matching bench from our collection. Bet on the arrangement of the interior, where the floor and the bed made of wood are not the only products decorating your four walls. Opt for comfortable poufs in the bedroom . Additional space is also a storage under the surface of the bed.
Bench for the bedroom
A stylish bedroom bench is not only an elegant solution adding a classic style to the interior, but above all practical and functional. Offered by berk bedroom benches adapt to virtually any current style. Bench is a practical and fashionable decorative element in various interiors. Furniture made of oak will prove itself both in a modern bedroom , adding a bit of elegance and class, in a classic bedroom with accessories in black or gray, perfectly harmonizing with other elements, such as also in a glamor or vintage style interior. A simple and timeless form combined with wooden ones legs will impress us and the guests, who will certainly also want to have it in theirs bedroom as a beautiful and functional solution. Dress up your interiors with modern furniture that will provide comfort and convenience. The use of wood in fashionable benches guarantees durability and aesthetics.
Elegant seat made of wood stained in gray
Bedroom benches are not only a black quilted seat. Seating furniture both in the hall and in the bedroom will be used, among others. to put clothes away don't throw them on the floor. The interior of the bedroom and living room will be emphasized by a bench made of wood by Berke. Check inspiration for your bedroom . The combination of bed + seat will work in any bedroom . It doesn't matter if your bedroom has a place for a pouffe, seat or bench , you will successfully emphasize the entire arrangement of the wall with a photo gallery thanks to the seat from the offer tag. If you like gold inspiration, the fabric of the bed will ensure that your bedroom furniture collection is highlighted.
Delivery all over Europe