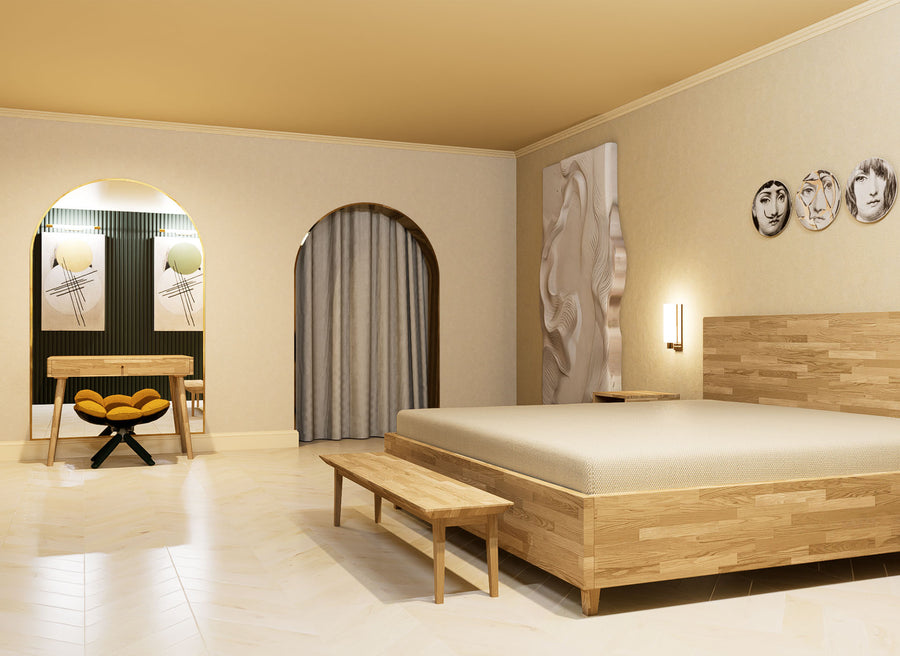 Japandi
A cozy version of minimalism.

Discover our proposals of Japandi style furniture, thanks to which you will combine in a coherent whole simplicity, functionality and respect for nature.
10 years guarantee
Delivery with lifting
30 days for free return
Japandi in tag
Japandi style - A collection of bedroom furniture that harmonizes Japanese simplicity and Scandinavian coziness. Like japandi.
We invite you to discover our unique Japandi bedroom furniture collection, which is a combination of style Japanese and Scandinavian. Taking inspiration from the distinctive features of both styles, we have created functional and aesthetic furniture that creates a harmonious atmosphere in your bedroom.
Japandi bed - A combination of style elegance. Not only the rattan bed has a capacious container.
The Japandi bed is a true gem of the collection. Bed made of solid wood. His unique material and a wide range of colors will allow you to match the bed to the Japandi style in your bedroom.
Japandi bed, bench, dressing table and bedside table
In addition, the bed has a capacious chest, ideal for storing less used items, keeping at the same time the Japanese simplicity of cool minimalism. Comfortable headboard of the Japandi style bed guarantees you comfort during rest. Its solid construction ensures your peace and relaxation. japandi bed made of solid wood will allow you to create a relaxed atmosphere in the Japandi-style bedroom.
Functional Japandi furniture - A combination of Japandi style and Scandinavian coziness. japandi bed
Our Japandi bedroom furniture collection offers not only the Japandi bed, but also a wide selection of others functional furniture. Choose from dressing tables, bedside tables and benches. The use of natural raw materials and subdued colors creates timeless interiors with an inspiring Japandi and Scandinavian style minimalism.
Japandi braid
The characteristic braid and high quality workmanship are the features that distinguish our Japandi furniture. every item The collection has been carefully designed to provide you with not only an aesthetic experience, but also a practical one storage and organization solutions.
Bedroom and Japandi furniture. Japandi style - inspired by
The Japandi style, inspired by the closeness of nature, allows you to create an interior that exudes peace and harmony. It's worth it bet on furniture from the Japandi collection, which will not only be functional, but also create a sense of peace and balance in your home your bedroom and give you the warmth of Scandinavian coziness. We invite you to discover our furniture collection in an interesting way Japandi bedroom wood color (warm Scandinavian minimalism) and enjoy the harmonious combination of Japanese simplicity and Scandinavian coziness in your own interior.
Minimalism and japandi
The Japanese simplicity of cool minimalism emphasized by the shape of the berke bed in subdued colors in the japandi style. A bed made of natural materials plus green plants means closeness to nature, comfort above all and harmonized elemental compilation.
Japandi in tag
At berke we create a timeless bed. The wood bed has a container for bedding that you can also be used for storage. With berke you will create a relaxing atmosphere. Support on the headboard is guaranteed convenience. White bedding and natural materials with an inspiring Scandinavian style will also perfectly match the Japanese style