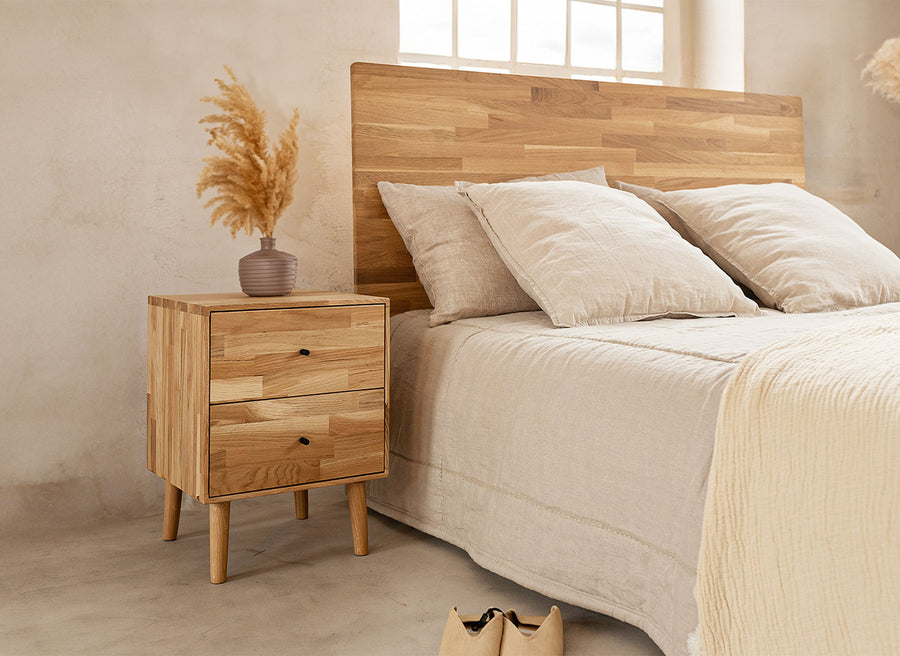 Wooden Oak beds
Hand -made wooden beds made of the highest quality materials will ensure a comfortable and stylish sleep.

Choose solid oak furniture with FSC certified.
10 years guarantee
Delivery with lifting
30 days for free return
Wooden beds for the bedroom are primarily a choice for people who appreciate a beautiful and classic look with a durable and solid construction. After all, the bed has been one of the most important and basic pieces of furniture in our home for centuries. The ones done made of wood will give us not only comfort and durability, but also a wide range of interior design possibilities. According because of the type of wood we choose, we can get a very diverse effect - from classic, elegant, to rustic and very natural design. Wooden beds are also an excellent choice for people who value minimalism and the Scandinavian style, characterized by the enormity of natural resources. Very practical the solution used by berke is the production of wooden, top-quality beds with a container that makes it easier keeping the bedroom tidy and will give us much more free space in the bedroom.
The wooden bed you dream of
Wooden beds have a lot to offer. Properly selected, they can provide us not only with a perfect appearance and a great combination with the bedroom decor, but also well-being, healthy spine, comfort and most importantly - slept all night without any pain. After all, sleep has a huge impact on many aspects of our lives - well-being, relaxation, work, functioning throughout the day. So if we choose the bed with due care, then we will ensure comfort on every level. For this purpose, let us pay attention primarily to the highest quality, comfortable mattress, durable rack and frame. It is these elements that affect the right attitude and the right level sleep of all household members. The great advantage of choosing a bed from the berke line is the multitude of models that will make it everyone will find something for themselves and their interior, complementing the arrangement of the bedroom. If we decide to turn to a wooden bed with a container, we will not only ensure a perfect appearance, but also undeniable functionality and convenience that we will appreciate very soon.
Solid wood beds - which one to choose?
As we have already read, when choosing a bed, two advantages are most often important - the aesthetic one and of course practical. When choosing a wooden bed, let's be guided primarily by the style in which we feel best. If we prefer the "old" atmosphere, let's focus on a massive, wooden bed with rustic elements. Their solid and massive The construction, combined with hand-sanded elements, will make such a bed cozy and perfect in arrangement. If, on the other hand, we prefer modern or Provencal interiors, let's opt for a more modern one, maybe a white bed that will illuminate the bedroom and give it a romantic character. Lovers of modern style can also bet on minimalist beds with a simple structure, which are timeless and universal. Nevertheless, the bed wooden in each of the above cases will be an excellent choice that will work for many years.
Wooden beds for the bedroom are an investment for years
All oak log cabin beds are made of solid wood, which, after removing knots and blemishes, were joined together new technology. Prepared in this way, thick and solid wood is very resistant to any damage, and metal connections and fittings further strengthen the entire structure. If you choose a bed with a box which is very practical addition, you can also be sure that our actuators can easily handle even heavy ones mattresses. Let's remember - a wooden bed is an investment for years, which we should enjoy during everyday life use.
Why choose oak beds?
A wooden bedroom bed, and even more so an oak bed, is an excellent choice for people who appreciate classic and elegant solutions at the same time. This arrangement will guarantee that the bedroom will always look perfect, regardless of the time that passes. Oak is an extremely durable wood, which is why they choose this type of beds most often customers who value class and the highest quality. Of course, in berke we offer classic beds, but also with those with elements of modern design, thanks to which each of us will find a dream solution. Choosing furniture for bedroom, remember that it is not only the appearance that counts, but also, and perhaps above all, practicality and durability - that's what wooden beds can provideon solid, especially those made of oak.
Wooden beds are available in sizes: 80x200, 90x200, 140x200, 160x200, 180x200, 200x200.