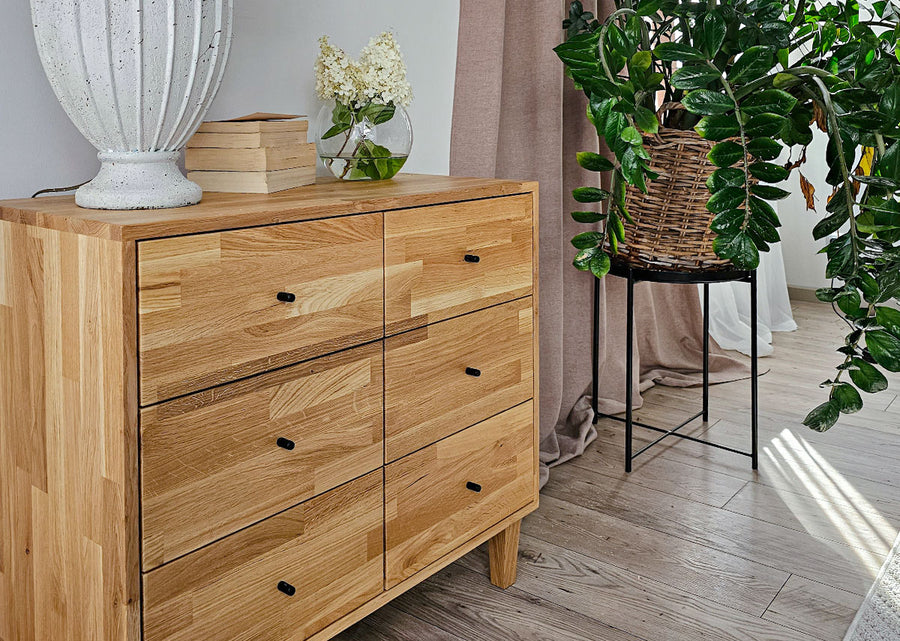 Wooden dressers
Wooden dressers for the bedroom.
Discover retro and rustic style solid oak wood dressers. The extremely durable wood of the dressers and its natural color matching various interiors is an interesting proposition for the dining room, living room and bedroom.
Simple forms of the antique dressers complemented by drawers that provide a practical function for their interior.
10 years guarantee
Delivery with lifting
30 days for free return
Solid wood dressers - antique dressers
Wooden furniture not only for the children's room is one of the most popular furniture in recent months.
The most stable furniture and chests of drawers can be found in berke.
Wooden chests of drawers for storing clothes as a perfect addition for your home
It is equally important that the main function of the dressers is storage.
Metal handles will work in the Scandinavian style, retro style and rustic style.
Chests of drawers with such handles will certainly attract the attention of guests.
Modern wooden dressers for Provencal style interiors
The type of wooden dressers (dressers in berke are made of solid wood or walnut) depends on what room we use as the main storage place.
Chests of drawers are often decorative. When the dressers stands directly against the wall, it can be used as an RTV cabinet.
Stylish dressers for RTV equipment
Classic dressers are often a white wooden dressers.
In our offer you will find light shades of oak for each dressers.
Sideboards made of bleached wood will prove themselves in the arrangement of a Scandinavian-style apartment, where a bright and well-lit space is important.
Cabinets in various sizes
White dresser and solid wood are a good combination.
Individual wood species differ in the intensity of wood whitening, but each of them is gaining more and more popularity.
Dresser, whose main material is wood, will be able to serve for many years. At berke, we provide a 10-year manufacturer's warranty.
Dressers as a perfect piece for gorgeous display
Bedroom furniture, i.e. wooden dressers, beds and bedside tables can also be used as a place to store cosmetics.
Drawers fit perfectly into the life of organized people who fill them with organizers for underwear or cosmetics. dresser are definitely the best choice when it comes to organization
A dressers combined with a wooden coffee table
The type of wood affects the final appearance and functionality of the dressers. Solid oak wood is ideal when it comes to room dresser. Wooden dressers in various sizes are a piece of furniture worth considering.
Wooden bedroom dressers in various styles - easy purchase
A well-chosen wooden oak dressers will serve us for many years and will fit into the interior regardless of style, e.g. it will fit into apartments in Provencal style, industrial style, Japandi style and minimalist style.
Cabinets for the land spacious bedroom
If you are looking for a wooden dressers, berke antiques are perfect furniture for you. It is also worth placing a dressers in the dining space. It can be used as an additional place for tableware or kitchen cloths.
Hand-finished dresser can be a TV cabinet
The more drawers, the better. Berke white dresser made of bleached wood are second to none. Dresser with white laminate are not as resistant as dresser made of solid wood, which will be able to serve for several generations.
Modern chests of drawers in a children's room
As for dressers - it is better to choose a model with at least three drawers. Thanks to this, the dressers can be used more capacious drawers and in each of the drawers you can put different utensils, e.g. in one locker, in the other bedclothes, in the third children's toys.
Industrial dresser for the living room, bedroom and children's space
For a children's spaces, it is better to choose a stable piece of furniture and additionally attach it to the wall. Children like to play with drawers, so it is important to take special safety measures.
White dresser, especially those laminated to a high gloss, require frequent wiping of the fronts. Choosing a wooden dressers will save you cleaning time.
It is worth considering the choice of a wooden dressers. It is a piece of furniture that can be not only an element of living room equipment, but after some time it can also stand in a children's room or bedroom. Furniture with drawers is especially important and is becoming more and more popular among people who like Provencal and Scandinavian interiors.
Display photos and cupboards on
Pine wood dresser are lightweight and less durable than beech or solid oak. At Berke, we decided to give up pine wood for antiques made out o oak. A pine dressers would be less durable than an oak dressers. A wooden dressers made of solid oak can be passed down from generation to generation, because even after many years you can refresh the wooden dressers with re-oiling or waxing.
Wooden dressers in perfect price
The more drawers, the better. Wooden dresser usually have 3-5 drawers. We recommend buying drawer organizers to make the best use of the storage spaceliving in the dresser. There are many types of furniture with drawers.
However, the ones that are the best solution when it comes to maximum use of space are, of course, dresser. Cabinets with doors work better when you want to hide larger items in them. The small ones, to be better organized, can be sorted between the drawers of the dressers. White dresser or wooden dresser are the most common choice nowadays. Of course, white dresser will work better in interiors in a minimalist interior, while wooden dresser will fit better for a boho people.
Our offer includes high-quality wooden furniture i perfect shape, including charming dressers - the perfect solution for your interior. We provide a wide selection of wooden furniture, including beautiful dresser that will add charm and functionality to your home.
Are you looking for durable and stylish wooden furniture? Discover our dresser, which are not only aesthetic, but also practical. We offer wooden furniture of excellent quality, including elegant dresser that will emphasize the character of any space.
Our well designed wooden dressers are a perfect solution for people who value natural materials and unique interior design. Be amazed by our wooden dresser that perfectly fit into modern and classic interior arrangements.
We provide the highest quality wooden furniture, including solid dresser that will serve you for many years. Discover our unique wooden dresser that will combine functionality with a unique chic, giving your home a unique character.
Our wooden furniture, including stylish dresser, is crafted with attention to detail to give you a unique product with lasting value. Wooden dresser are not only a practical storage solution, but also a unique decorative element that will add warmth and natural charm to your interior.
Contact us or send us
Register to confirm your address.
Tags: sale, perfect piece, furniture, house,