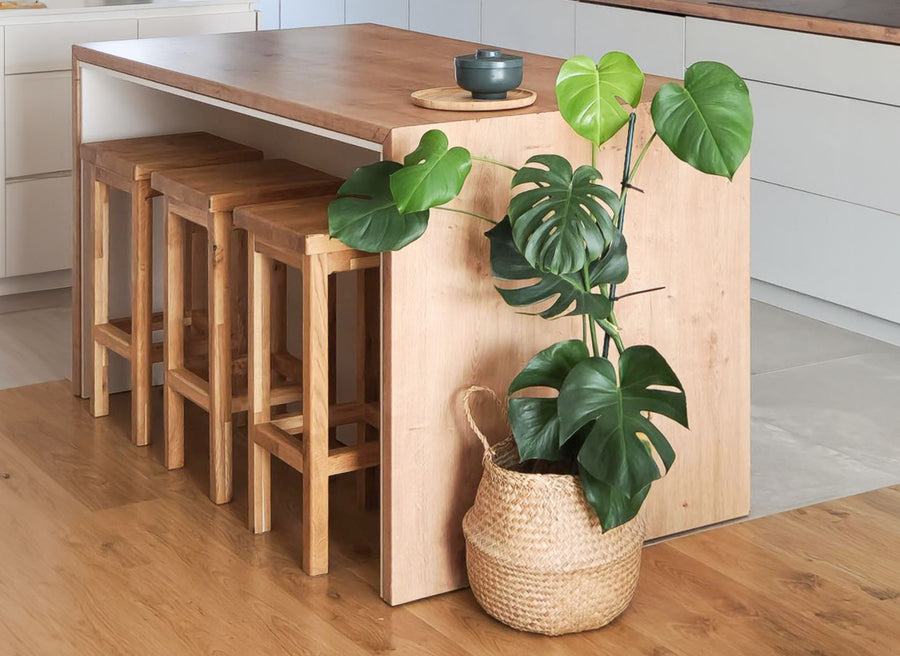 Hockers
Designer stools made of oak wood are a practical solution for the kitchen and dining room.
Bar stools are the perfect solution for classic and modern interiors. Bar chairs made of oak will prove themselves both in the restaurant and in the kitchen in a modern style.
10 years guarantee
Delivery with lifting
30 days for free return
Modern kitchen stools
Plastic is less and less visible in the modern kitchen. When choosing bar chairs for dining, pay attention attention to their functionality. Wooden stools will enrich the kitchen with its warm finish. Adjust the seat height to your individual needs.
Bar stools (bar chairs)
Models of bar stools available in the berke offer will emphasize the interior with furniture made of eco-leather, plastic or metal components. Elegant wood stains will match boho, art deco or japandi interiors. Modern arrangements are free of plastics. From our offer, you can choose bar stools both for the dining room and for kitchen. Bar stools (bar chairs). Stools will also work well in rooms with upholstered armchairs wooden elements. Combination of material: wood and form: the stool will work in the dining room and kitchen. Remember that you can adjust their height to individual. In our offer you will not find swivel stools on one leg or on wheels. At berke, we focus on simplicity. The most important thing for us is to keep it simple and comfortable. Furniture available in our offer are mainly: wooden beds, upholstered beds with a backrest, beds with a container, beds with a headboard (backrest, e.g. quilted headboard), beds without a headboard, frame (main material: metal), stools (bar stools, backrest: missing), bedside tables (handles material: metal), make-up vanities, benches in front of the bed (with wooden seat).
Stylish kitchen stools - a bar chair for the dining room and kitchen
Bar stools (bar chairs) have a comfortable wooden seat. Solid oak unlike metal provides a natural feel atmosphere in the interior. Stools (bar chairs) without a backrest allow for their easier storage, e.g. under an island kitchen. Fast delivery (fast shipping) assured.
Which bar stool to choose?
Stools made of various materials are more common in the kitchen or dining room. At berke, we focus on elegance. every product available in our offer will fit into the elegant interior of the living room. Fabric in the interior highlighted by furniture from solid wood is a convenient solution for those who do not like plastic. Rooms with sofas with armrests can be enriched with a bar stool, which can act as a chair and as a flowerbed. The seat of the stools for the kitchen and dining room is made of oak wood finished with natural and ecological oil-waxes. In tag we believe that the combination of wood + fabric fits very well into japandi and boho style interiors.
Convenient and safe shopping at berke.
Stools are a popular choice for a modern style kitchen. Bar chairs made of wood will add elegance to yours dining room. Stylish stools with a designer seat fit into classic interiors. Rotary stools are perfect solution for modern arrangements. Choose a bar stool with adjustable seat height to customize it to individual needs. Bar stools with an upholstered seat will bring comfort to your kitchen. Modern oak bar stools are easy to clean and stand the test of time. Comfortable bar chair with with armrests is the perfect solution for restaurants. Metal stools with a quilted backrest will add elegance to living room.