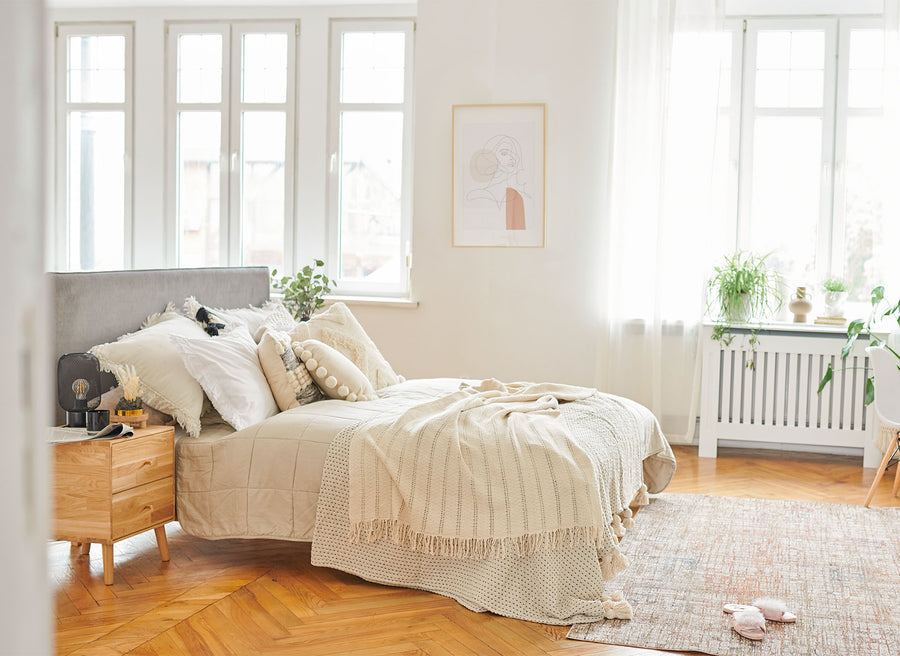 Beds
A solid and comfortable bed is the most important element of every bedroom.

Choose one of our oak, upholstered or multi -functional container and ensure the best rest.
10 years guarantee
Delivery with lifting
30 days for free return
A solid and comfortable bed is one of the most important, if not the most important element of any bedroom. Among the proposed berke models, you will find both classic and modern ones that will suit many interior designs. The construction of our beds is based on solid frames, which always have a positive effect on the quality of rest and sleep. Thanks to their appropriate use, our beds not only look beautiful and solid, but are also very comfortable. The same goes for the frame, which is always made of carefully selected and best quality material. The combination of these elements ensures proper air circulation for the mattresses, making our sleep completely comfortable. The berke range includes oak beds, upholstered beds and beds with a multifunctional container. The beds we offer are distinguished by their modern minimalism and aesthetics, which will create a great base for many stylings. We create beds which will appeal to people who want to compose their own interior design, as well as those who are looking for ready-made proposals for arrangements.

Modern beds for every interior
Sleeping and relaxing is one of the most important elements of our lives, which affects how we function throughout the day. In order to ensure the best possible rest, we should choose good quality beds with a mattress adapted to our needs. So what should this choice consist of? First and foremost, it's about adapting the frame and mattress to your individual needs. Well-chosen elements will eliminate any back pain or insomnia. A bedroom bed should also be aesthetically pleasing and suit the interior design. Therefore, the choice of design or materials used must depend on our style. If the bedroom is kept in glamour style, let's choose a decorative and metal bed. If, on the other hand, we are going for a rustic style, a wooden bed with a bedding container will be better, which will be appreciated very quickly. What should we also take into account? Obviously the firmness of the mattress, possible allergies or back problems. In our collection, we also have beds with the possibility of adjusting the headboard to the style we prefer. Thanks to this, our bed will look the way we dreamed it would, and the highest quality materials used will ensure that we have a guarantee of quality for many years.

Bedroom beds - wooden or upholstered?
In the berke range you will find both wooden and upholstered beds. Importantly, both have their advantages, and the choice is very often subjective and dependent on our needs. The upholstered ones are mainly distinguished by the soft headrest, which works well when we not only sleep on the bed, but also like to sit down, lean back comfortably and spend some time reading a book or watching our favourite TV series. Upholstered beds also correspond very well with the décor of the entire interior, especially when we have the possibility to choose the material and colour individually. On the other hand, there are also wooden beds, which are above all more durable, especially when we are talking about the oak beds offered by berke. We can also easily adapt them to our chosen style by decorating them with the right bedspread and cushions.

Bedroom bed - what size should it be?
For a
bed
to be comfortable, it needs to have the right frame, as well as a mattress to suit our capabilities. However, these are not the only important issues in this aspect. We often forget about the dimension of a bedroom bed.
Modern single beds
should be at least 90 centimetres wide. If a bedroom bed is chosen for two, then allocate at least 160 centimetres. Of course, we can also find narrower beds, i.e. 80 and 140 centimetres, due to the fact that we do not always have enough space in our bedroom and simply need an alternative solution. Nevertheless, most often
modern beds
are manufactured for standard mattress sizes, so we find the following dimensions: - 80 x 200 cm, - 90 x 200 cm, - 100 x 200 cm, - 120 x 200 cm, - 140 x 200 cm, - 160 x 200 cm, - 180 x 200 cm, - 200 x 200 cm. Of course, if we are designing our dream bedroom and we want everything to be perfect and to the size we have imagined, we can ask for a made-to-measure bedroom bed. However, we must then reckon with the fact that we will also have to order a
suitable mattress
for it, which will further increase the cost of the project.