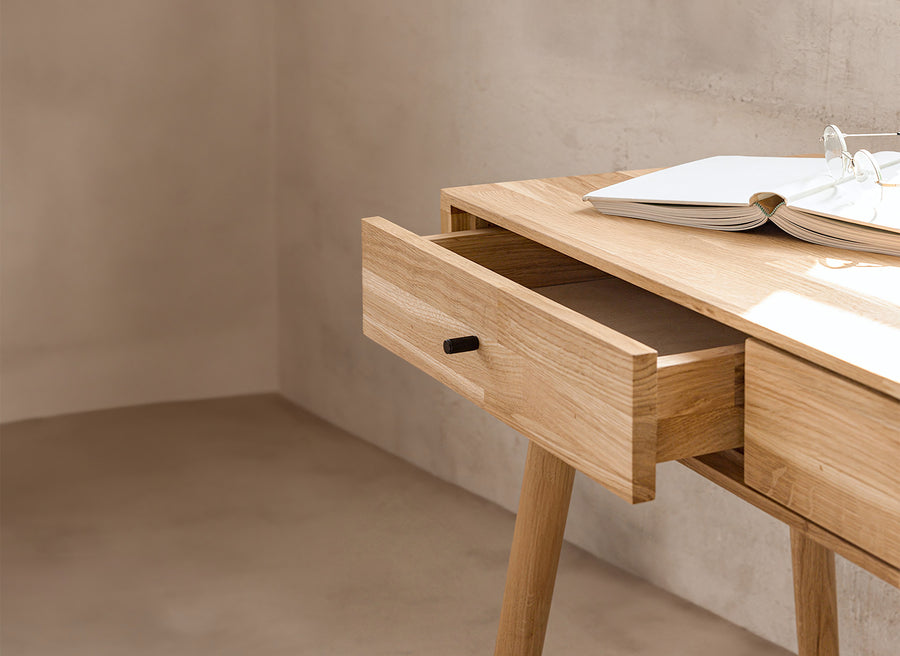 Dressing tables
Elegant and universal, they are a perfect complement to the female space.

The delicate and simple form of the Lili collection makes you easily find a place for her in your interior.
10 years guarantee
Delivery with lifting
30 days for free return
Dressing tables , after many years of drought, have returned in great style and are now almost an obligatory piece of furniture that must be found in our bedroom. It allows not only for a comfortable and calm make-up by a woman, but also has an aesthetic and very practical function - thanks to the drawers, we can conveniently store numerous cosmetics or jewelry . The dressing table is also a very versatile piece of furniture that will work in virtually any bedroom. We can choose those with a mirror and a large number of drawers, or those for the bathroom, where we often do not need an additional mirror . In the case of the former, we can talk about a real renaissance. Not only do such dressing tables with a mirror look very stylish, they also allow you to store cosmetics and jewelry in one place. In the case of a bathroom dressing table, we can of course choose one with a built-in mirror, but also the one without a mirror (in a situation where the mirror is already hung on the wall).
Dressing tables - why are they so loved?
Dressing tables are, after all, a very feminine piece of furniture, so we should absolutely not be surprised that the fair sex loves them so much. Although dressing tables were not fashionable for many years, they have recently returned to favor with a vengeance! This type of furniture will be perfect especially in a larger bedroom, but also in smaller spaces it will perfectly fulfill its role, because it can be a dressing table and a desk at the same time with a large number of drawers for documents and, of course, cosmetics. In addition, the dressing table will be very good in the bathroom or dressing room. Currently, dressing tables are used primarily for applying make-up and styling hair. Thanks to the drawers, we can also store small things. Some of them are very similar to desks with a mirror and this is often their purpose, especially when we dream of a dressing table in a smaller apartment where we do not have much space.
Wooden dressing tables - what are their advantages?
A dressing table is primarily a necessary and original piece of furniture that can be used for many things. This makes it a universal place with a number of advantages. An investment in a dressing table, regardless of whether it is placed in a bedroom, dressing room or bathroom, will pay off very quickly. Here are a few reasons why you should buy a wooden dressing table :
It gives the impression of a very elegant and luxurious piece of furniture, although its cost is not relatively high,
Thanks to special drawers , we have a lot of space to store small cosmetics and jewelry, which otherwise get lost easily and are often scattered around the room,
It is a feminine corner where we feel comfortable, and in a convenient way we can take care of ourselves in the morning and evening,
It can be a private space for women, which will be especially appreciated in a small apartment,
It can be a beautiful place in any room, decorated with flowers.


A wooden dressing table is a great 2-in-1 solution
The dressing table is mainly a female piece of furniture, but as we know, necessity is the perfect mother of inventions, which is why in smaller houses, apartments, and especially studio apartments, a brown dressing table will be perfect as a 2-in-1 solution, i.e. a dressing table with the function of a small desk . This solution is very often seen in hotels, where we can do morning care in one place, but we are also able to work in front of a computer during the day. Such a piece of furniture can therefore be placed in a youth room, a private bedroom, but also in the living room. It is a perfect place when we need to sit down to the computer for a while after returning from work, but we do not want to close ourselves within four walls and isolate ourselves from other household members. Unfortunately, this solution also has one major disadvantage. Having a wooden, brown vanity both for make-up and for work, we must always maintain thorough cleanliness and clean up all the mess.