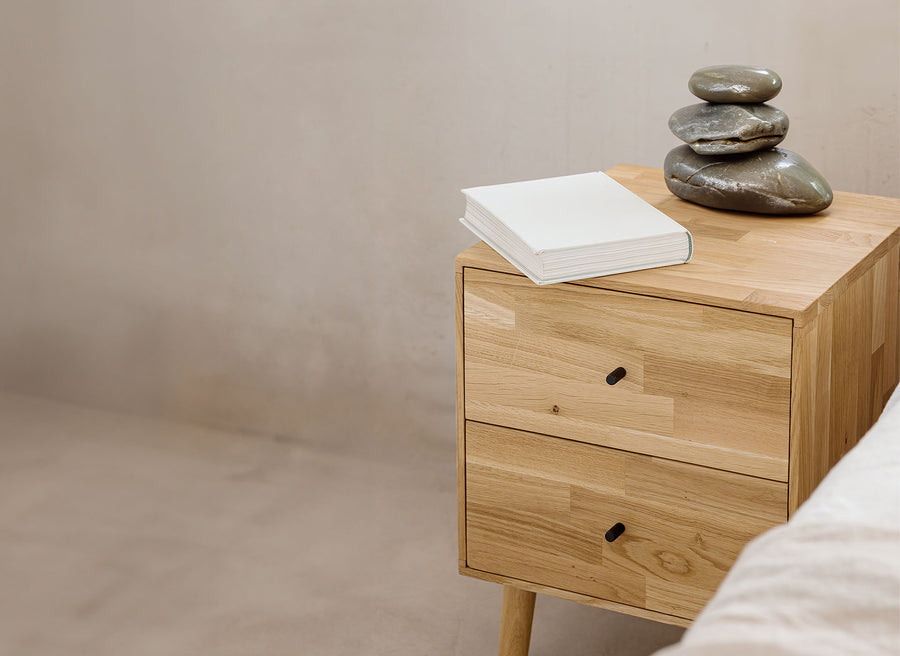 Nightstands
Night tables are an essential element in every bedroom. Not only as a stylish and functional accessory, but a place for accessories, so that everything you need is at hand.

Made with care to make them a perfect complement to your arrangement.
10 years guarantee
Delivery with lifting
30 days for free return
A table or bedside table is undoubtedly a must-have item in every bedroom. Thanks to a table, we always have access to all the things we need most, not only during the day, but especially at night, when the worst thing to do is to get out from under the warm duvet. This is why a bedside table is the ideal piece of furniture not only for an alarm clock, phone or bedside lamp, but also a great place for a favourite book or cosmetics with which we care for our body before bed. A well-made wooden bedside table is also a beautiful-looking piece of furniture that blends in well with the bed and the rest of the interior design. If it additionally has drawers, it becomes a piece of furniture that can finally bring order to our bedroom.
Berke bedside tables are of the highest quality.
The bedside tables sold by berke are top quality products made of extremely durable and beautiful oak wood. They are characterised by their amazing, timeless design and extreme durability. They are robustly practical and resistant to damage. The bedside tables produced by berke have a stylish, modern yet classic look, which will work well in a modern bedroom décor as well as in one that is a little more classic or even extravagant. The bedside tables available in the shop with their classic and timeless design can be used in any bedroom décor, so if you are looking for a wooden bedside table, you can be sure that at berke everyone will find the perfect solution for themselves. A bedside table also provides additional storage space for small items that disrupt the design and space of a room that should be calm and orderly on a daily basis.
Bedside tables for the bedroom in many colours
The extensive selection of bedside cabinets and bedside tables from berke means that everyone will be able to choose their dream piece of bedroom furniture. In addition to the many shapes, we also have the opportunity to disguise the colours of the cabinets. This way, we can be guaranteed that we will match the colour of the bedside table to the entire bedroom décor. In addition, all of our bedside cabinets are equipped with drawers or shelves, which will help us to store our most needed items and, of course, keep things tidy. It is only up to you whether you choose a bedside table in natural, warm tones that bring a calm and cosy atmosphere to your bedroom, or whether you opt for a dark bedside table that provides a distinctive accent to emphasise the character of the interior.
Wooden bedside tables for your phone, a lamp or a glass of water
Beautifully and carefully crafted wooden bedside tables will allow you to organise the space in your bedroom, keeping it completely tidy. This type of furniture, despite its small size, is indispensable in any bedroom. In addition to its aesthetic qualities, it also stands out for its functionality and practicality. Thanks to the wooden bedside table, we have the most necessary things at hand at all times, and therefore do not have to get up during the night and disturb our sleep. A wooden bedside table is an indispensable place for a bedside lamp, a telephone or a glass of water. The drawers, on the other hand, hold cosmetics, a phone charger or jewellery. Bedside tables from berke are sure to be a solid, timeless and elegant piece of furniture for many interior styles.
Narrow bedside tables ideal for a small bedroom
What about when our bedroom is very small and we need to utilise every inch of space perfectly? Then we can opt for the narrow bedside table offered by berke. The narrow bedside table stands out for its practicality and the fact that we can insert it practically anywhere, even when there is not much space. Measure your free space next to the bed and check out the wide selection of bedside tables at berke, choosing the one that will fit perfectly into your interior.