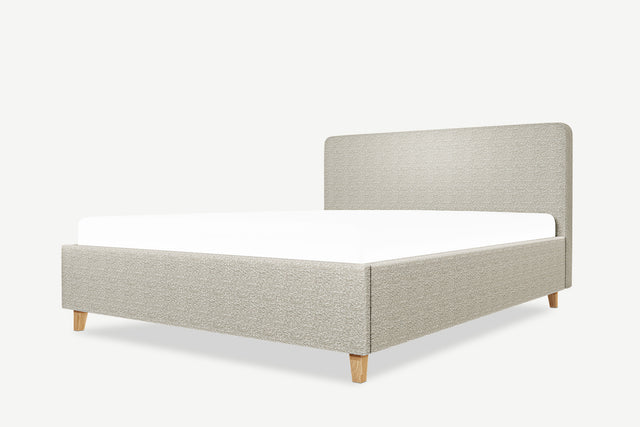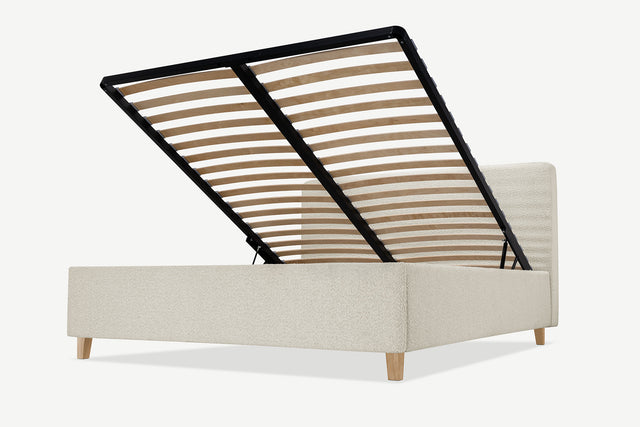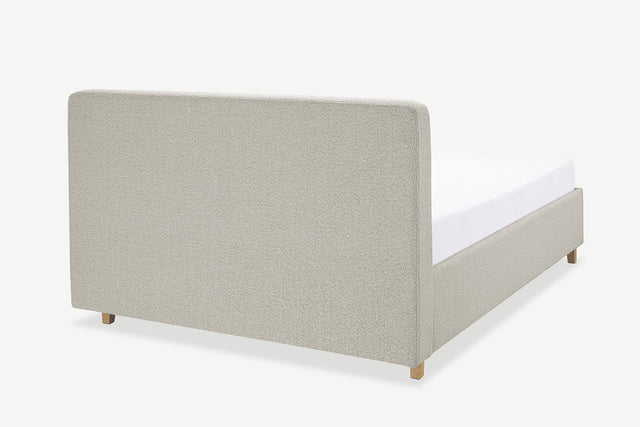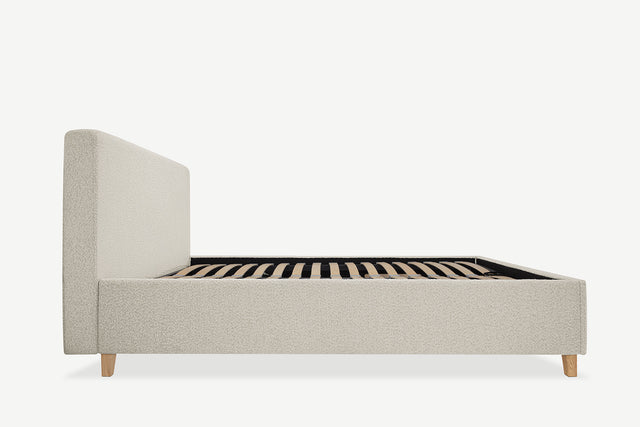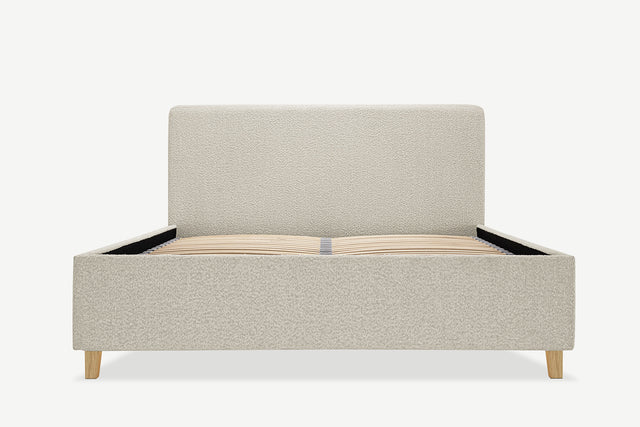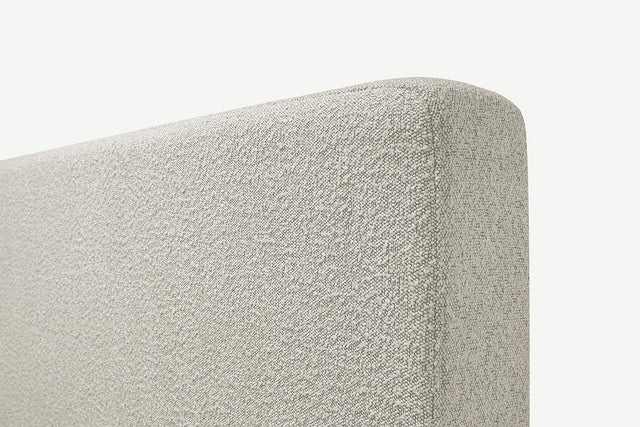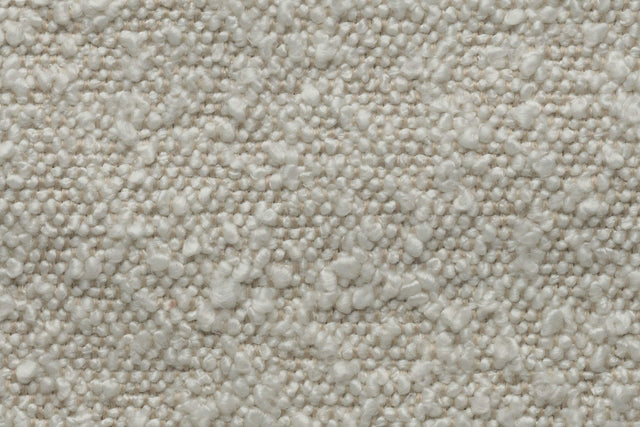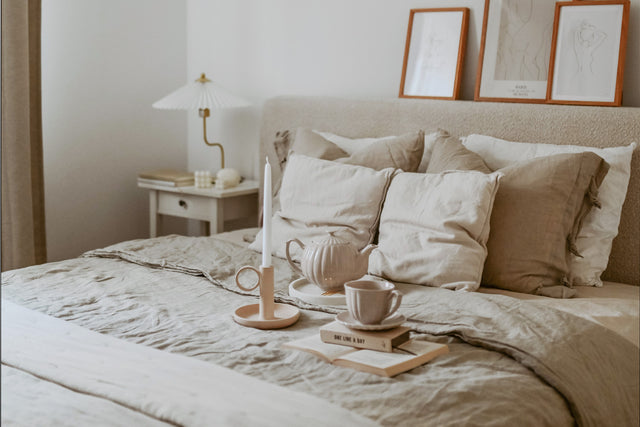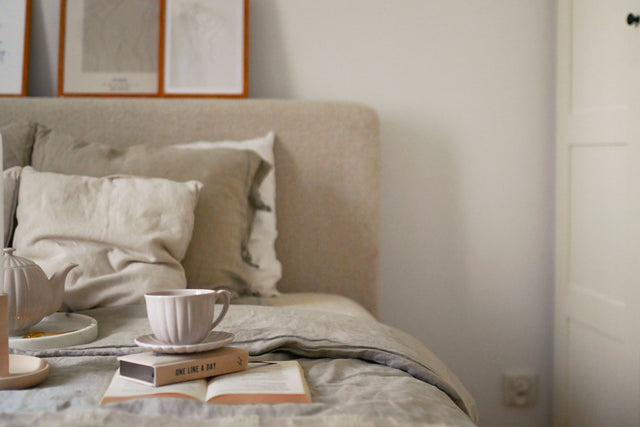 by berke.
Upholstered Storage Bed More - 160x200 / Pearl_34
Lead Time:

11.12.2023 (Mon.)
For orders placed by:

07.12.2023 (Thu.) 23:59
4.482,00 PLN
The lowest price from 30 days before the discount
More upholstered double bed with a storage and classic straight headrest.
Description
Upholstered bed with a container for the bedroom. An ideal solution for the most demanding.
Thick, 14 cm thick, soft headrest in a rectangular shape delights with its clean form and solidity. The upholstered bed frame is made of the highest quality materials and oak legs finished with natural oil wax. The practical storage box is located under the entire mattress surface. Opening with gas springs. Adequate power of the lifters ensures smooth and easy opening.
Comes with a Komfort base that has 48 spring slats made of birchwood.
Bestselling upholstery materials have properties: Hydrophobic, magic clean, pet friendly, recyclable, flame retardant. Our online store presents upholstered beds in bestselling materials in shades of gray and beige. You can also choose the bed upholstery material of your choice from our full range.
Dimensions and specifications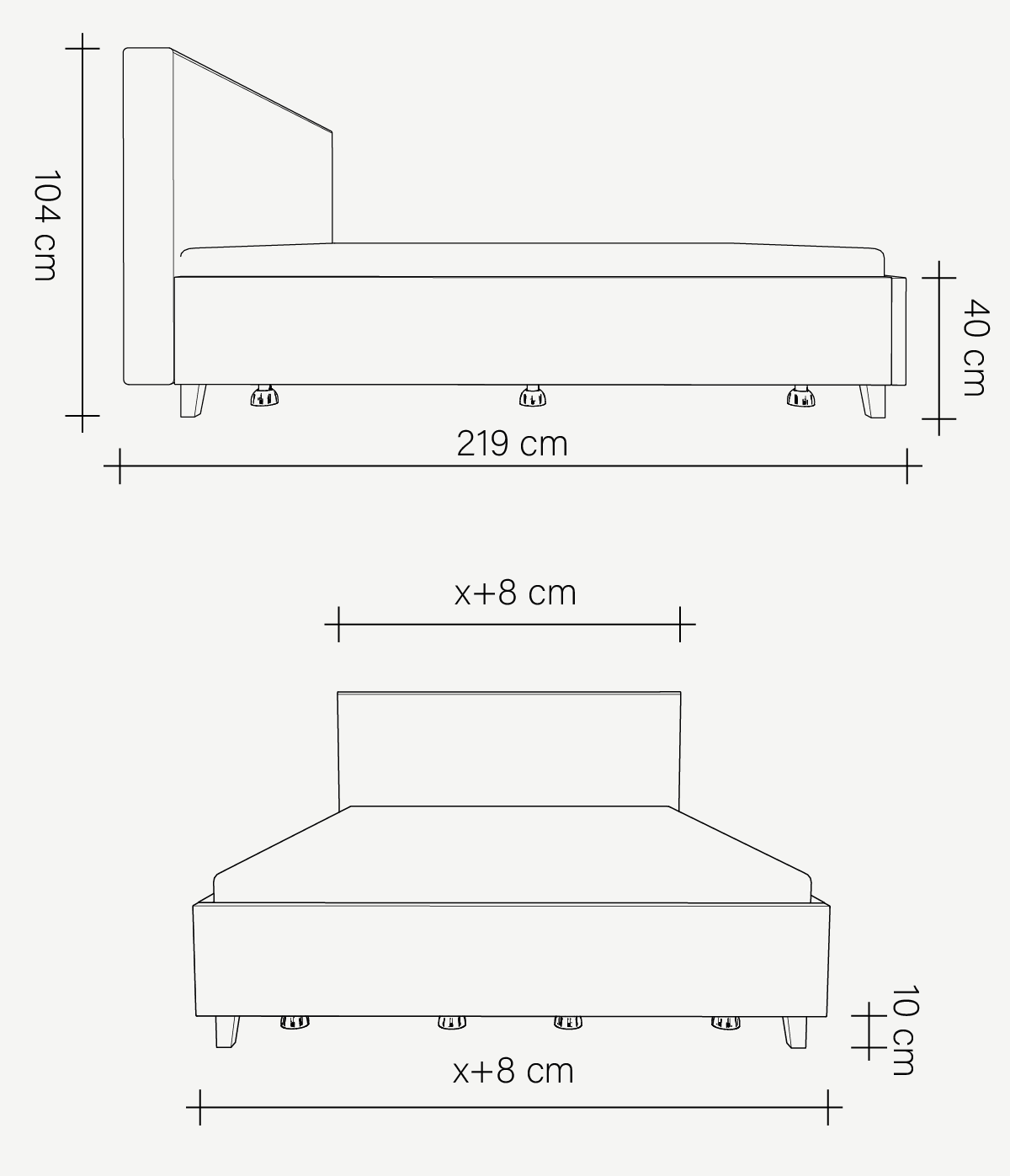 Mattress Width
x
Frame Width
168 cm
Headboard Width
168 cm
Total Length
219 cm
Headboard Height (from floor)
104 cm
Headboard Thickness
14 cm
Frame Height (from floor)
40 cm
Legs Height
10 cm
Space Under Bed Height
11 cm
Mattress Embedding Depth
7 cm
Package Dimensions (for size 160x200)

170 x 100 x 16 cm

206 x 35 x 21 cm

205 x 22 x 12

39 x 18 x 18 cm

205 x 85 x 4

75 x 14 x 19 cm

Weight (for size 160x200)
134 kg
Load Capacity
300 kg
Material
Oak, Birch
Set Composition
Bed Frame + Slats
Slats
Equipped with Flexible Birch Wood Slats
Number of Slats in Frame
48
Distance Between Slats
2 cm
Assembly
Furniture for Self-Assembly
Assembly Instructions
Download
Maintenance
Learn More
Available Sizes
80x200, 90x200, 140x200, 160x200, 180x200, 200x200

• Photos were taken on a bed model of size 160x200.
• Space under the bed enabling the operation of a cleaning robot.
• Possibility of making the bed for a mattress length of 210 or 220 cm.
• Upholstered element dimensions allow for a tolerance margin of +/- 1 cm.
• Dimensions of wooden elements assume a tolerance margin of +/- 3mm.
Fulfillment, delivery and returns
Comfortable delivery and carrying to a designated place in the apartment, regardless of the floor and the availability of an elevator. The carrier should contact you within 3 business days to confirm the delivery date.
Free return: extended return period up to 30 days. Self-service, free returns only for logged in users!
Configure your bed
Interested in a different upholstery material or wood finish? Check available options and create the perfect set for your bedroom.
Questions? Get in touch with us.
10 years guarantee
Delivery with lifting
30 days for free return