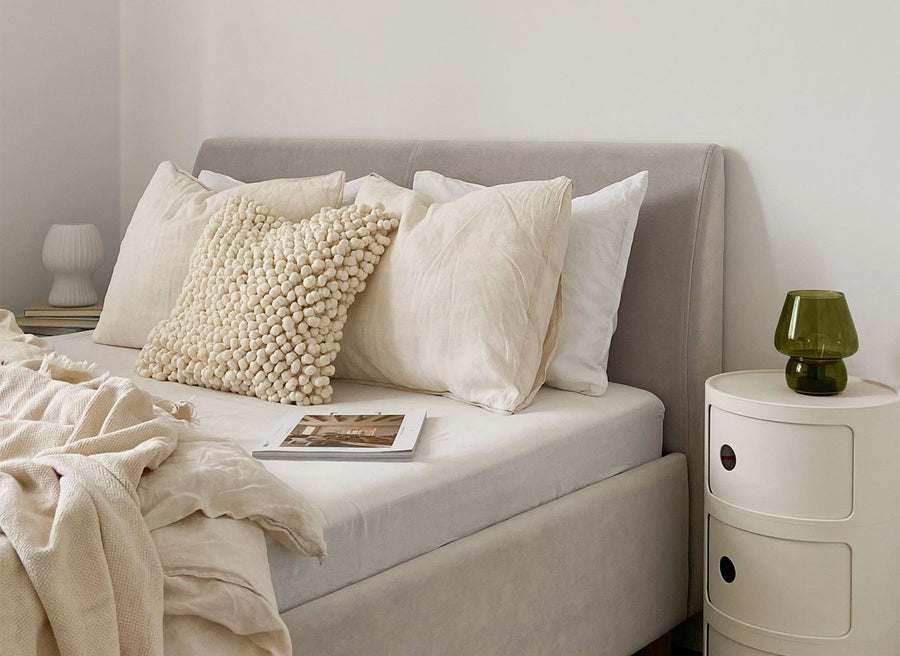 Upholstered beds 200x200
Top-class, soft materials are irreplaceable when creating cozy and elegant bedroom arrangements.
Bet on high-quality upholstered beds 200x200, thanks to which your bedroom will become the perfect place to rest and relax.
10 years guarantee
Delivery with lifting
30 days for free return
Upholstered beds 200x200 are one of the most frequently chosen beds for the bedroom in recent years. Their popularity is not however, a surprise - this type of furniture has its own unique charm and style that impresses in every way and will not give cannot be compared to any other type of bed. There is certainly no person who would not like to be convinced of this in inside. Therefore, we encourage you to take advantage of the berke offer, where you will find a wide selection of beds upholstered for the bedroom! When you buy a berk upholstered bed measuring 200x200, you can be sure high that the material upholstery will meet your expectations.
Upholstered beds 200x200 - when the interior of the bedroom needs color
In recent years, upholstered beds have been an excellent choice that will work in virtually any bedroom. Bed Upholstered ones are most often chosen when we want to introduce strong color accents in the bedroom. IN In our offer you will find a wide range of colors - from more subdued to expressive and strong. A 200x200 bed in a distinctive color in a subdued bedroom can be a central decorative element. IN finally the bedroom is a place where we start and end each day, which is why it cannot do without a beautiful and important - a comfortable bed that will not only decorate our interior, but also allow us to have a wonderful rest and relaxation. In tag you can choose from many comfortable upholstered beds with dimensions of 200x200, which will ensure a perfect sleep even for the most demanding users who expect perfection in every respect in their own bedroom. Be sure to see and check out our wide selection of furniture that will match any style!
An upholstered bed 80x200 is full of possibilities
We are really far from rigid frames, which is why each of you can choose the perfect and unique one for yourself an upholstered bed 200x200, tailored to your needs. Upholstered beds add to any bedroom refined and refreshing character . The most charming and attractive part are undoubtedly 200x200 headrests trimmed with an effective fabric, which are often characterized by original details, such as such as grommets or buttons. After all, the final appearance of an upholstered bed is limited only by our imagination. Few people know, but the first The inspiration to create this type of bed was a chair with a backrest, which has delighted with its upholstery for centuries. Therefore, in the end, the designers decided to do the same with the bed, which gave an excellent final, developing effect over the next years. A wide selection of upholstery fabrics means that there are many arrangement possibilities The type of bed fits classic and modern interiors: Scandinavian, glamor and many others.
Upholstered beds for the bedroom in line with the vision of the bedroom
An upholstered bed with dimensions of 200x200 is of course a great design, but also benefits related to comfort. This kind of furniture because they very often have padding in the headboard under the material, which makes the 200x200 bed very comfortable, such as reading a book or watching TV. There is also a 200x200 bed with a soft headboard a safe solution for a children's room. Choosing a bed with a bed can also be an excellent solution a container with dimensions of 200x200, which allows us to recover a huge space in the bedroom. Upholstered beds they will work like this really in every bedroom, including the children's bedroom. Thanks to the fact that we can choose any color, it is also each of us will find the perfect solution for the colorful world of your child. Upholstered bed with drawers of dimensions 200x200 in a children's room may turn out to be a hit in the proverbial "10", because we will be able to hide many toys in them.
Upholstered beds - size matters
Upholstered beds with dimensions of 200x200, like any other, have their own dimensions. Depending on whether we are single and sleeping alone, or we share a bed with our other "half", we should choose the size of the bed appropriately upholstered. In the case of single beds with upholstery, we can choose models with dimensions of 200x200 and 200x200 centimeters. Such a bed will also work in a children's and youth room. If we need any more For greater comfort, we will also find upholstered beds measuring 200x200 centimeters. What if do we need a bigger bed for two people? In this case, we can choose from dimensions such as 80x200, 90x200, 140x200, 160x200, 180x200 and 200x200 centimeters. Importantly, we offer both single and double upholstered beds also included with a practical container for bedding measuring 200x200, which will often be appreciated, especially in case of a small one bedroom. You can always spend it on other things, like clothes waiting for their season.
A bed with an upholstered headboard - why is it worth choosing?
Upholstered bedroom beds are a great idea for people who value not only convenience and comfort, but also as well as the style and craftsmanship of the interior design. Your dream bed with upholstery will work in any type of bedroom and will fit into any arrangement. It is a perfect solution for interiors in any modern and many styles classic. After all, the bedroom should encourage, above all, a calm, captivating and graceful space. Thanks to the details that can be used in upholstered bedroom beds, we are able to enliven the interior, and thanks to many materials, colors and shapes with dimensions of 200x200, we can easily refresh our bedroom. By replacing the existing bed with an upholstered bed in a distinctive color, you can easily change the face of yours bedroom. Familiarize yourself with our offer and choose the most suitable material and color for you. Offered by us the products are wooden beds with dimensions of 200x200 with high-quality upholstery. 200x200 wooden bed legs add warmth to the interior.
Bed colors
Upholstered beds with dimensions of 200x200 are available in the following colors: beige, bottle green, black, navy blue, cream, mustard, blue, powder pink, pink, grey, green. You can choose the upholstery material from those available in the title="Order samples">Order samples tab.